Invest with Simplicity and Peace of Mind
We provide an investment structure that puts an original slant on the age-old "bricks and mortar" wealth-building strategy.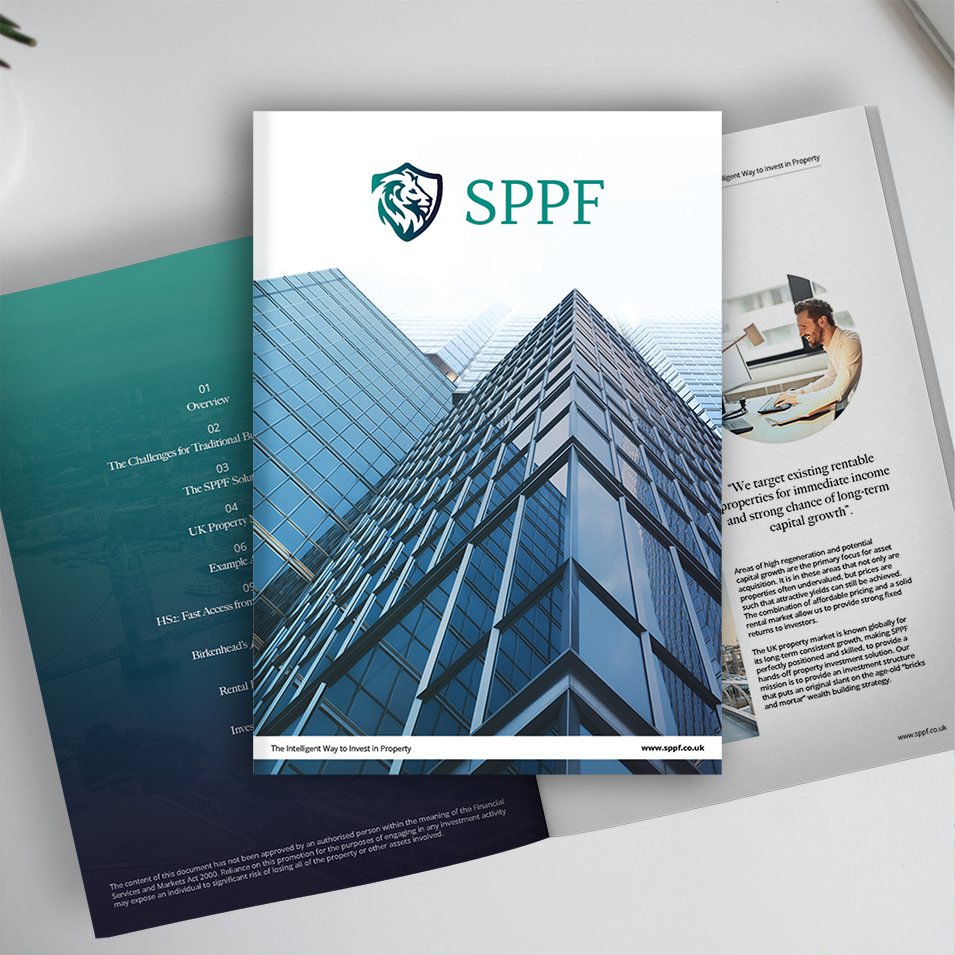 Request Your Free Brochure
Whether you're an existing customer or someone looking to invest for the first time, we provide an intelligent way to invest in property without the time, stress, and hassle of being a hands-on buy-to-let landlord.
Investor Returns
Management Fees
Withdrawal Rules
Security
Fill out your details below to receive a FREE brochure packed with useful information regarding investing in UK property with SPPF.
SPPF fill a gap in the market for investors seeking generous returns through buy-to-let property, without the inconvenience of being a hands-on landlord. The strategy of our portfolio is simple and straightforward; investor funds are used to purchase a diverse range of income-producing properties throughout the UK. The collective rental income is then distributed amongst investors to give a fixed return over a 5-year period.
We target existing rentable properties for immediate income with a strong chance of long-term capital growth. Our team of experts understand the intricacies of the UK property market and are dedicated to the management of your portfolio. This gives you the opportunity to reap the rewards of property investing while we do the legwork.
Generous Returns From the UK Property Market
With the population getting bigger and the world getting smaller, property prices are rising. We buy at low market value, find you the best tenants and guarantee you the best returns possible as well as earning interests on your investments from day one.
SPPF ensures the management of everything, your investment is completely hands-off.
Simplicity is the key to reducing risk. There are no development risks, buy-to-let risks or rental risks with SPPF. In addition to this, you are covered by rent guarantee insurance and are allocated a regulated security trustee. This means you are protected in the unlikely situation that tenants don't pay rent and your investor rights are protected.
We offer great security, support and reliability of income-producing physical property so that you invest with complete simplicity and peace of mind. We don't pay ourselves anything until you are repaid in full outlining our commitment to you and your future.
Your investment is locked into a 5-year investment term to help beat market volatility. By investing for longer periods of time, you are more likely to weather low market periods and maximise the return on your investment.
Save money on unnecessary admin costs from intermediaries such as solicitors and estate agents and keep more of your hard-earned returns.
Invest in a portfolio of hundreds of different property types and reduce your potential losses from concentrating all of your capital under one type of investment.
Take your first steps to invest in property the intelligent way!
What Do Our Investors Say?
"I'm an international investor and my priority was to find an opportunity with yields higher than bonds with lower risk than investing in shares with a reasonable appreciation. Having a second home and a passive monthly income was also part of my objectives. I'm happy with my Financial Advisor and their introduction to SPPF. I appreciate the transparency, advice and clarity I've been given."